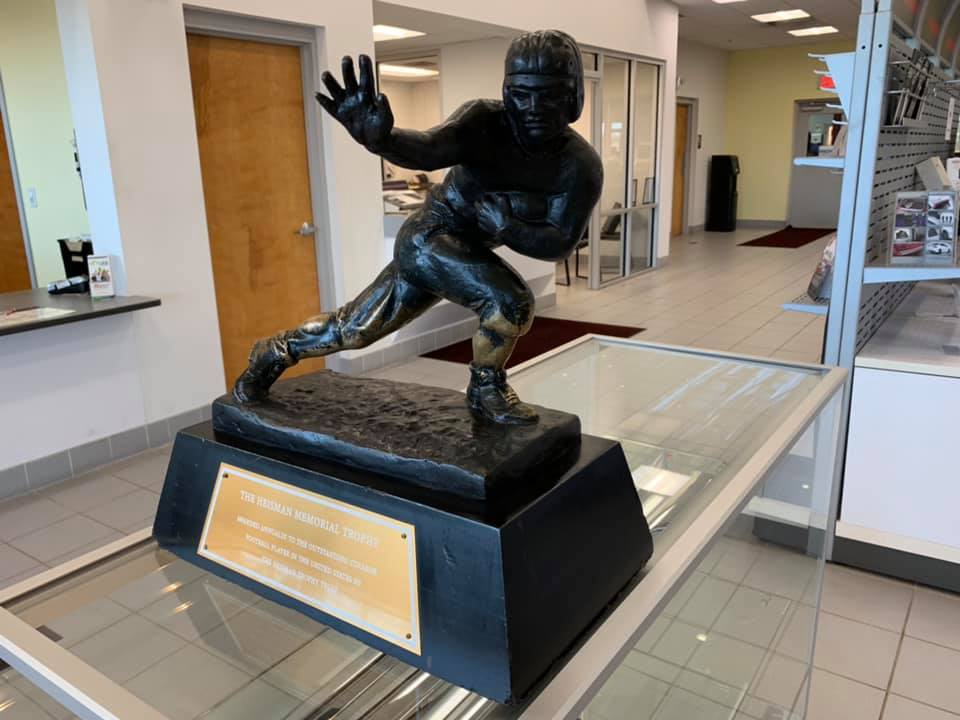 On November 21, 2018, the official Heisman Trophy landed at CMA's Colonial Nissan in Charlottesville, VA. As part of Nissan's long-running "Heisman House" marketing campaign, the official Trophy is traveling the US and stopping at select Nissan dealerships. Colonial Nissan was chosen as the Nissan dealership to host it during Black Friday and throughout Thanksgiving weekend.
"As big college football fans, we were thrilled to have the Heisman Trophy here at CMA's Colonial Nissan," said Warren Polson, General Manager. "Not only is the Heisman one of the most recognizable trophies in all of sports, with the big UVA-Virginia Tech game on Friday, we had the perfect football setting to showcase it."
Customers and members of the community were invited to visit CMA's Colonial Nissan and see the Trophy. Some chose to strike the Heisman pose for photographs. It was a weekend full of energy, even though UVA fell to Virginia Tech in overtime. The Heisman left Colonial on Monday, on its way to its next destination.
This marks the 8th year of Nissan's "Heisman House" marketing campaign. This year's campaign will emphasize the automaker's Titan pickup, as well as its "Intelligent Mobility" technology systems in Nissan vehicles. Learn more about CMA's Colonial Nissan and shop our inventory at
www.MyColonialNissan.com
.