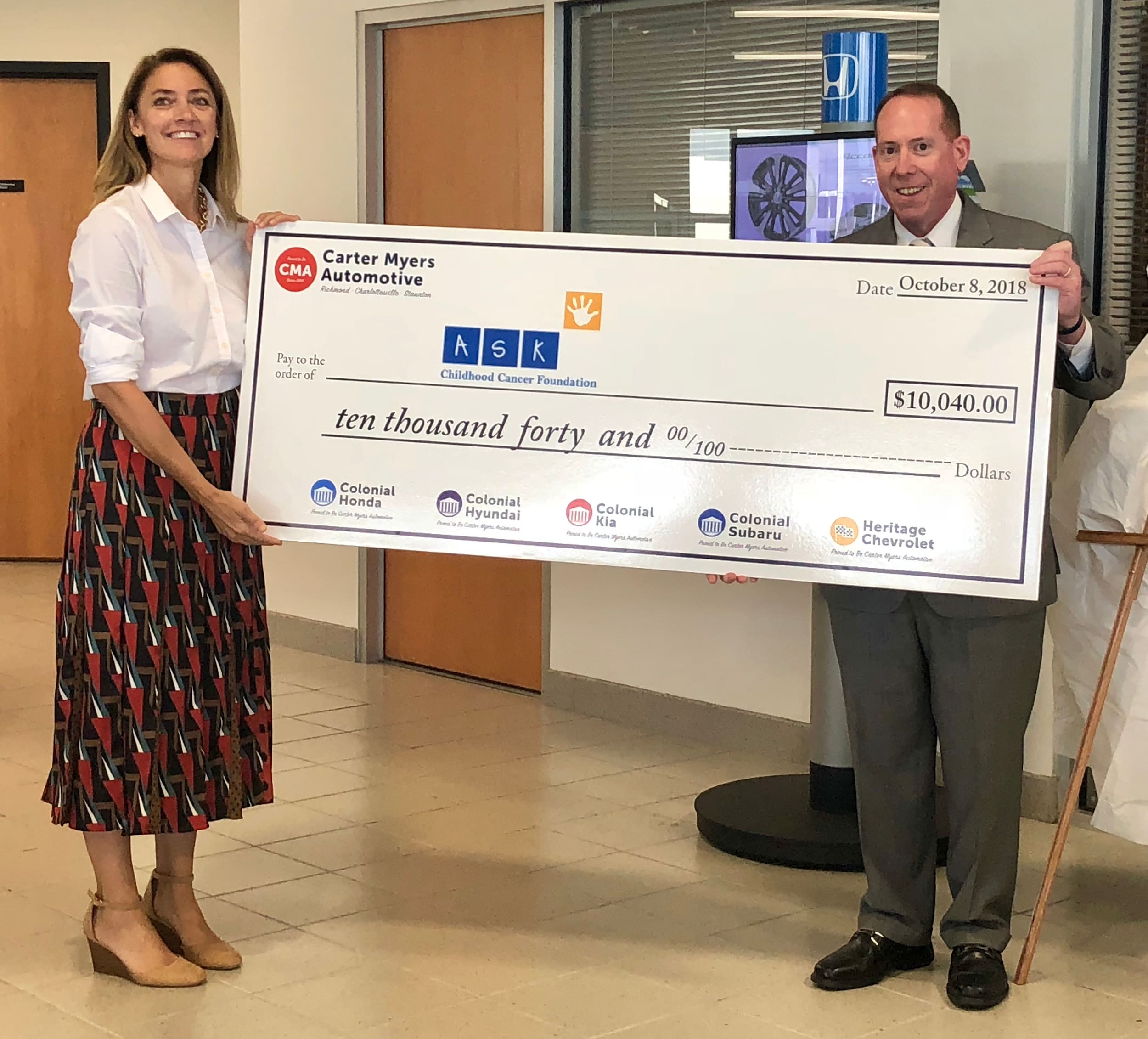 Amy Godkin, Executive Director of the ASK Childhood Cancer Foundation, and Tim Cosgrove, CMA's Colonial Honda GM and ASK Board member
Carter Myers Automotive (CMA) observed Childhood Cancer Awareness Month in a big way. For every vehicle sold during the month of September, CMA's Richmond dealerships made a donation to the ASK Childhood Cancer Foundation, which supports local children and their families as they undergo cancer treatment.
"We are so proud to present the ASK Childhood Cancer Foundation with a check for $10,040," said Tim Cosgrove, President of CMA's Colonial Honda and Board member at ASK, "As a family and employee-owned company, CMA has always made giving back to our community a top priority. This donation is one way we can raise awareness of and funds for these kids who are going through a very difficult time."
The check presentation took place on October 8, 2018 at one of CMA's Richmond area locations: CMA's Colonial Honda at 2100 Walthall Center Drive, Chester, VA 23834.
All CMA dealerships serving the Richmond market participated: CMA's Colonial Honda, CMA's Colonial Hyundai, CMA's Colonial Kia, CMA's Colonial Subaru, and CMA's Colonial Chevrolet. Located 15 minutes south of Richmond off I95, the stores are convenient not only to Richmond, but also Midlothian, Petersburg, Colonial Heights, and Fort Lee. All stores offer a Local Heroes discount to teachers, health care workers, military, police and fire & rescue personnel. All employees share ownership in the company, and are encouraged to give back in their communities.