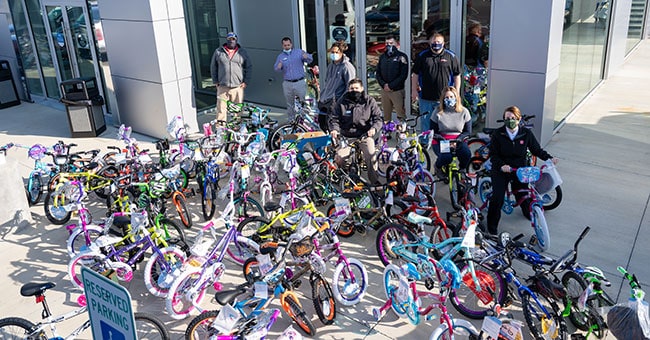 CMA's bike drive this year was a huge success! Thanks to all of you, we were able to donate over 700 bikes, helmets and toys to children throughout Virginia!
415+ Bikes & Toys for Toys for Tots from CMA's Richmond, Williamsburg, & Winchester dealerships
250+ Bikes for Salvation Army from CMA's Valley & Skyline dealerships
40 Bikes + $4,350 for Toy Lift from CMA's Charlottesville dealerships
A very special shout-out to CMA's Williamsburg Ford associates for their efforts in the 1st Annual Brandon Stanhope Bike Drive. That store alone collected 159 bikes for area kids. What a lovely way to honor Brandon's memory!
Here's a terrific video created by Matt Bacon and Alex Perry for the toy drive at CMA's Colonial Chevrolet: https://www.facebook.com/watch/?v=1403081280026993
And check out this one from Carlton Melton at CMA's Valley Dealerships: https://fb.watch/2rScc94tZM/

Thanks to everyone for donating, fundraising, shopping, and putting together bikes. We can have a lot of fun Moving Lives Forward!