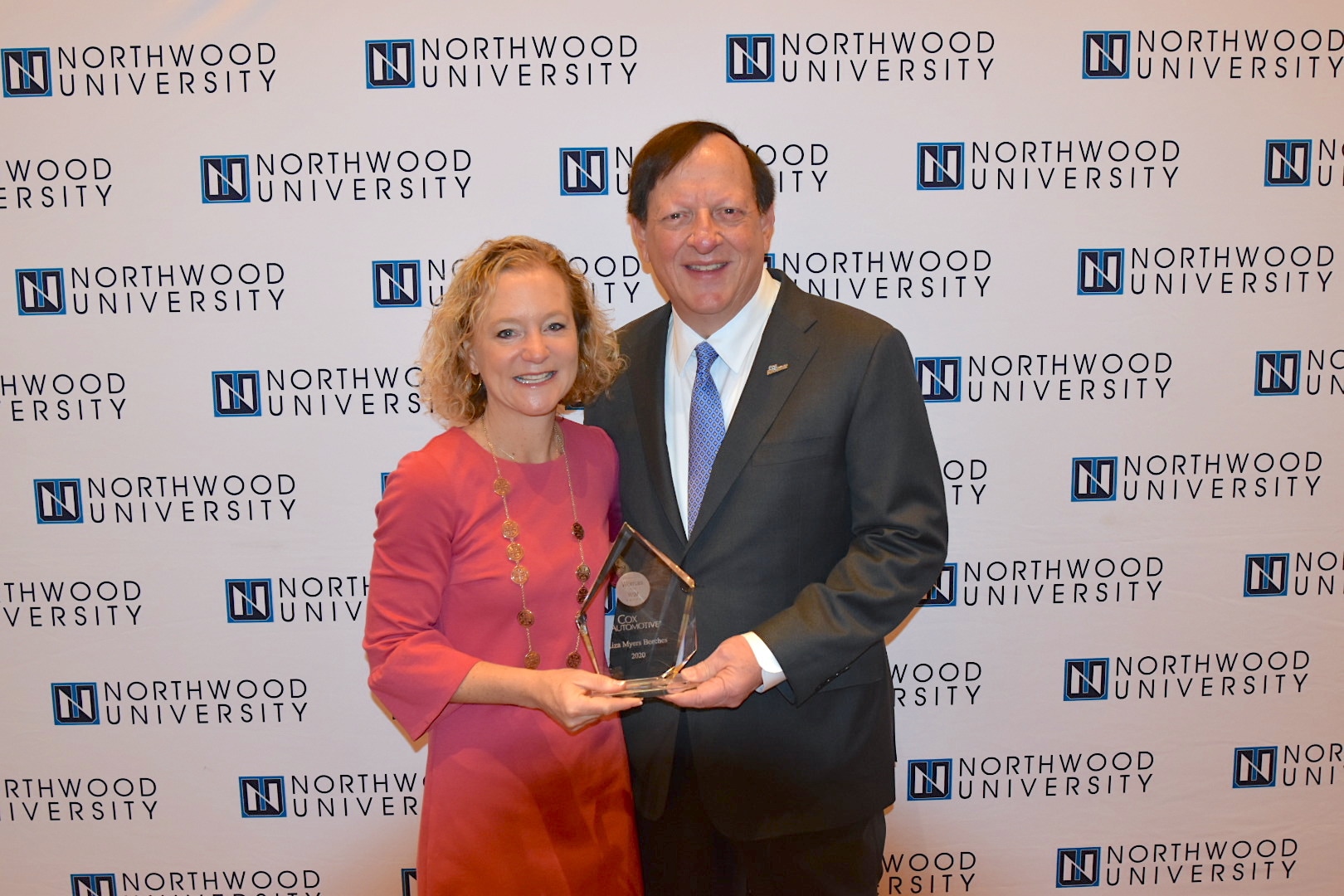 Cox Automotive presented its annual Barbara Cox Woman of the Year Award to Liza Myers Borches, president and CEO of Carter Myers Automotive, a fourth-generation family and employee-owned business based in Charlottesville, VA.
Named after the late Barbara Cox, a Cox Automotive owner and the mother of chairman Jim Kennedy, this honor is awarded to women who demonstrate business leadership, community advocacy, and a commitment to advancing the automotive industry. The award was presented by Cox Automotive President Sandy Schwartz on Sunday, February 16, at the 2020 National Automobile Dealers Association Show in Las Vegas, Nevada.
"Liza exemplifies this award by sharing many of the qualities and values that we admired in Mrs. Cox," said Schwartz. "Being part of a multi-generational, family-owned business, Liza shares a close connection with the Cox family story. Like with the Cox family, dedication to employees and the communities served has always been a priority at Carter Myers Automotive. I am honored to present this award to Liza in recognition of not only her business acumen, but also her strong support of charitable giving and community service."
Liza oversees dealership operations and is dealer principal for Carter Myers Automotive, including 15 dealerships with 17 new car franchises in Virginia.
"I am very honored to be recognized by Cox Automotive and know that there is still work to be done to encourage more women to consider a career in the auto industry," said Liza. "I hope that during my daughter's generation, women leaders in the auto industry become a normal part of the conversation and that the diversity of our customers and our country is reflected. As our industry evolves, we need people of all genders and races, with the brightest minds, helping work through solutions for the future! Thank you Cox Automotive for recognizing and encouraging diversity through the Barbara Cox Woman of the Year Award."
Liza has received numerous other awards including Ford's 2009 Salute to Dealers Award,
Charlottesville Woman's
4 Under 40 Award, the 2011 Athena Leadership Award, and
Automotive News'
2013 "Top 40 Industry Leaders Under 40." Under her leadership, Carter Myers Automotive was awarded the 2013 Hovey S. Dabney Award for Corporate Citizenship from the Charlottesville Regional Chamber of Commerce. Liza is the first fourth-generation dealer to be on the board of the Virginia Automobile Dealers Association and in 2015, Governor Terry McAuliffe appointed her to the Virginia Motor Vehicle Dealer Board.
?Liza gives freely of her time and is actively involved in many charitable and civic activities. She is a co-founder of Women United in Philanthropy, a collective giving organization that has raised over half a million dollars for non-profits serving women and children in the Charlottesville area. She previously served on the University of Virginia Children's Hospital Committee and on the board of the Charlottesville Regional Chamber of Commerce and is currently on the Board of Directors for United Way - Thomas Jefferson Area and The Boys and Girls Clubs of Central Virginia.