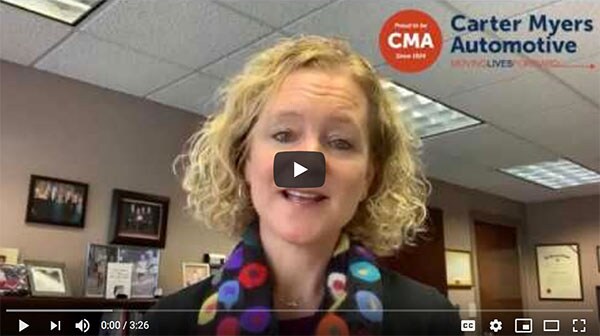 To our valued customers:
Carter Myers Automotive (CMA) is committed to ensuring the safety and well-being of our customers and all of our employee-owners. We are carefully monitoring the COVID-19 pandemic and all communications from the Centers for Disease Control (CDC), government agencies, local health officials, and our internal team to keep tabs on this ever-changing situation.
Auto dealerships have been designated across the country as essential business. You still have places to go, whether it is to pick up groceries or prescriptions, to check on loved ones, or to seek medical care. We understand that you need reliable transportation. CMA is here for you.
While we have always had stringent cleaning and sanitation procedures in place in our dealerships, we are taking additional precautions to keep customers and associates safe.
In-Dealership Cleaning:
We have enhanced our Dealership cleaning and disinfecting procedures in all high-touch areas, including:
Bathrooms
Customer waiting areas and lounges
Kiosks, credit card readers, counters and service advisor stations
All door handles and counter tops are wiped down hourly
We have hand sanitation stations in our lounges and showroom
Interaction with our Sales and Service Associates:
In-Dealership: We will be limiting the number of people in Sales or Service to 10 and maintaining 6 or more feet between customers and staff. It has always been our practice at CMA to shake hands to greet customers or express sincere appreciation for your business. We are temporarily halting this practice to enhance everyone's safety. As well, every CMA associate that interacts with your vehicle, whether it is assessing your vehicle's trade-in value, driving it into the shop to make necessary repairs, or delivering your newly purchased vehicle, will be wearing gloves and will wipe down the key fob, steering wheel, gear shift and any area with which they have come in contact.
From your home: For those customers wishing to conduct business with us remotely or online, we offer the following:
Service pick-up and delivery at no additional charge. (There may be distance limitations.)
Virtual test drives through the use of video.
Online or tele-purchase experience to include:

Trade appraisals
Price confirmation
Securing financing and protection products
Delivery of the vehicle to your home
3-day return policy at no charge (max 300 miles)
If remote purchase or service options are best for you, simply contact your CMA sales or service professional and we will arrange these services for you in the simplest way possible.
For our associates and our community: Importantly, any of CMA's team members who are experiencing any symptoms related to COVID-19 will remain at home for the safety of our associates and our valued customers.
Beyond transportation: We understand that there are people in our communities who need additional help, and many of our local non-profits do not have the same volunteer base they've had in the past. We've opened a helpline and have people on staff who are able to deliver groceries, pick up prescriptions, or run other essential errands if you cannot.
Please watch the above video for details.
CMA's Helpline is 434-220-8885.
CMA's mission is Moving Lives Forward for our customers, our associates, and our communities. There's never been a time when this was more important.
Thank you,
Liza M. Borches
President & CEO
Carter Myers Automotive