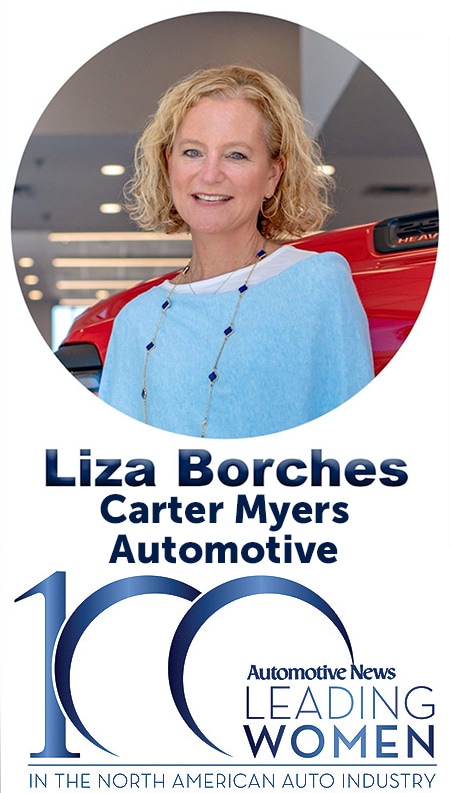 Liza Borches, President & CEO of Carter Myers Automotive (CMA), has been named one of the 100 Leading Women in the North American Auto Industry by Automotive News. Ms. Borches and her co-honorees are featured in a special section of the Nov. 9 issue and were recognized at a virtual, exclusive celebration sponsored by Automotive News and Deloitte.
100 Leading Women in the North American Auto Industry recognizes women who are leaders in the automotive field – those who make major decisions and have significant influence at their companies. Automotive News has published the list of the industry's top female executives every five years since 2000.
As CMA's President and CEO, Liza oversees the daily operations of 16 auto dealerships across Virginia with more than 650 employees representing 17 new car brands. She serves on the Board of Directors for the Virginia Automotive Dealers Association and the Virginia Motor Vehicle Dealer Board, as well as on the Boards of the Boys & Girls Clubs of Central Virginia and United Way of Greater Charlottesville. Earlier this year, Liza was named the 2020 Barbara Cox Woman of the Year.
"I am very honored to be recognized by Automotive News and know that there is still work to be done to encourage more women to consider a career in the auto industry, especially in retail and customer-connecting positions," said Liza. "I hope that during my daughter's generation, women leaders in every industry become a normal part of the conversation and that the diversity of our country is reflected. As the auto industry evolves, we need people of all genders and races, with the brightest minds, helping to create solutions for the future. Thank you to Automotive News for recognizing and encouraging diversity through the 100 Leading Women program."
"A comparison of the 2020 and 2015 Automotive News lists of 100 Leading Women in the North American Auto Industry confirms that the status of women in the industry continues to improve. There are 13 CEOs on the list this time, up from six in 2015 and two in 2010," said Mary Beth Vander Schaaf, Automotive News managing editor and leader of the project.
The 2020 class of Automotive News' 100 Leading Women in the North American Auto Industry emerged from a months-long nomination and judging process that attracted hundreds of entries from the United States, Canada and Mexico.
"Our selection committee made many difficult decisions," said Vander Schaaf, "The talented, powerful executives on this list are at the forefront of thousands of successful women in the auto industry."
About Carter Myers Automotive
Carter Myers Automotive (CMA) is a family and employee-owned business founded in Petersburg, VA, in 1924. Liza Myers Borches is the fourth generation of the Myers family to lead the company. Through a unique Employee Stock Ownership Plan, employees now own over 26% of the business, and CMA is still one of the only auto groups in the country that shares ownership equity with its employees. CMA has 16 dealerships in Virginia representing 17 new cars brands including Buick, Cadillac, Chevrolet, Chrysler, Dodge, Ford, GMC, Honda, Hyundai, Jeep, Kia, Lincoln, Nissan, RAM, Subaru, Volkswagen, and Volvo with nearly 3000 new and used vehicles in stock. CMA has service centers at every dealership location and in Ruckersville, VA and operates the Central Virginia Auto Auction. CMA's mission is Moving Lives Forward for their customers, their associates, and their communities. Learn more at www.CMAcars.com.

#MovingLivesForward #proudtobeCMA #ownersjustdomore