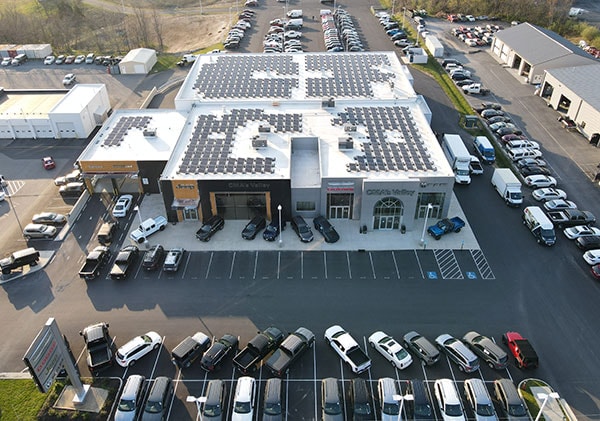 CMA celebrated Earth Day 2021 by turning on a new solar energy system at CMA's Valley Chrysler Dodge Jeep Ram (CDJR) in Staunton, VA.
CMA was the first dealer group in Virginia to embrace renewable energy, beginning in 2018 with CMA's Colonial Nissan in Charlottesville where they built a one-of-a-kind solar superstructure atop their parking garage. CMA's next solar projects were at CMA's Colonial Subaru in Chester in 2019 and CMA's Volvo Cars of Charlottesville in 2020. CMA's Valley CDJR is the fourth dealership within the CMA family and the fourth in the state to go solar. Total CMA solar production across the four dealerships is 523kW.
"Transportation is a vital part of life. We are incredibly fortunate to be in an industry that helps humans get where they want and need to go every day," said Liza Borches, CMA's president and CEO. "However, transportation as it exists today is the highest contributor to greenhouse gas emissions in our country. Our goal at CMA is to be at the table, to be a part of the conversation, and ultimately to be a part of the solution to continue to move lives forward in this evolving environment. Our industry has evolved in so many ways, as has CMA for decades and generations. This is just a new opportunity for us to grow, to learn, and to impact lives as we continue to fulfill our mission."
In addition to CMA's solar projects, the company is also expanding its inventory of electric and hybrid vehicles across Virginia and focusing on sustainability within dealership operations. Every CMA dealership uses energy-saving LED lighting, more sustainable building materials, and offers customers the option of a fully-online purchase experience. The company is working with its manufacturers and lenders on paperless sales and service processes and has created a "Green Team" comprised of CMA associates from all dealerships to collaborate on new sustainability initiatives. CMA is committed to driving down its carbon footprint as quickly as economics allow, while providing opportunities for associates and customers to engage in the endeavor.
About Carter Myers Automotive
Carter Myers Automotive is a family-owned business that also shares ownership with its employees. Founded in Petersburg, VA, in 1924 as a single dealership, CMA has grown to include 15 dealerships in 5 cities throughout Virginia. CMA has more than 3000 new and used cars in stock and an extensive wholesale parts network that delivers throughout Virginia. The company's mission is "Moving Lives Forward" for their associates, their customers, and their communities. Through a unique Employee Stock Ownership Plan, CMA's 650+ employee-owners currently own over 26% of the company and CMA is always hiring. Career opportunities, company history, and more information can be found on
www.CMAcars.com