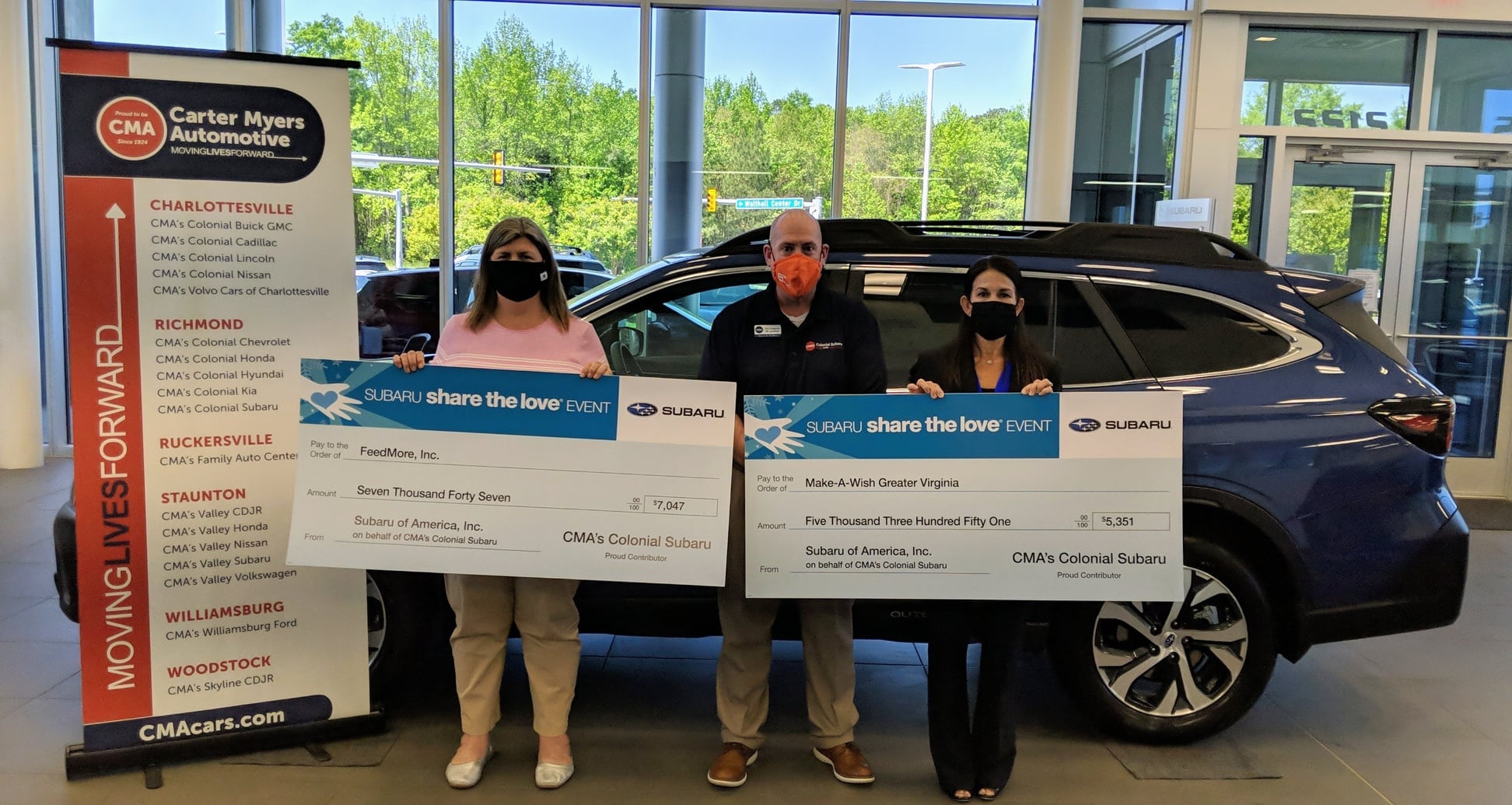 Carter Myers Automotive's Subaru dealerships raised over $49,750 for Virginia charities through Subaru of America's recent Share the Love Event. From November 19, 2020 to January 4, 2021, Subaru of America donated $250 for every new Subaru purchased or leased. The purchasing customers had the option of choosing one of four national charities named by Subaru, or the local non-profit selected by each Subaru dealership. Carter Myers Automotive (CMA) has three Subaru dealerships:
CMA's Valley Subaru in Staunton, VA, raised $21,000 for Samuel's Supper, which provides short-term financial support to families who have a child facing a life-threatening medical crisis.
CMA's Subaru of Winchester raised $16,363 for the SPCA of Winchester, Frederick, and Clarke Counties to help protect, care for, and home animals in their community.
CMA's Colonial Subaru near Richmond, VA, raised $7,047 for FeedMore, Central Virginia's core hunger-relief organization, and $5,351 for the Make-A-Wish Foundation of Greater Virginia to fulfill the wishes of area children with a critical illness.
"We are so pleased to support these important local non-profits through Subaru's Share the Love Event," said Liza Borches, CMA's president & CEO, "CMA's mission is Moving Lives Forward, and a big part of that is supporting our communities. The money we raised will help our neighbors and their children when they need it the most, and help create safe, loving homes for animals. I couldn't be more proud of our Subaru teams and their commitment to making a positive impact in Virginia."
Liza is the fourth generation of the Myers family to lead the company. Under her guidance, CMA's 15 dealerships and nearly 700 employee-owners work with local non-profits across Virginia by volunteering, fundraising, and raising awareness throughout the year. The company's tagline is
"Owners Just Do More!"
and that means doing more for fellow associates, their customers, and their communities every day.