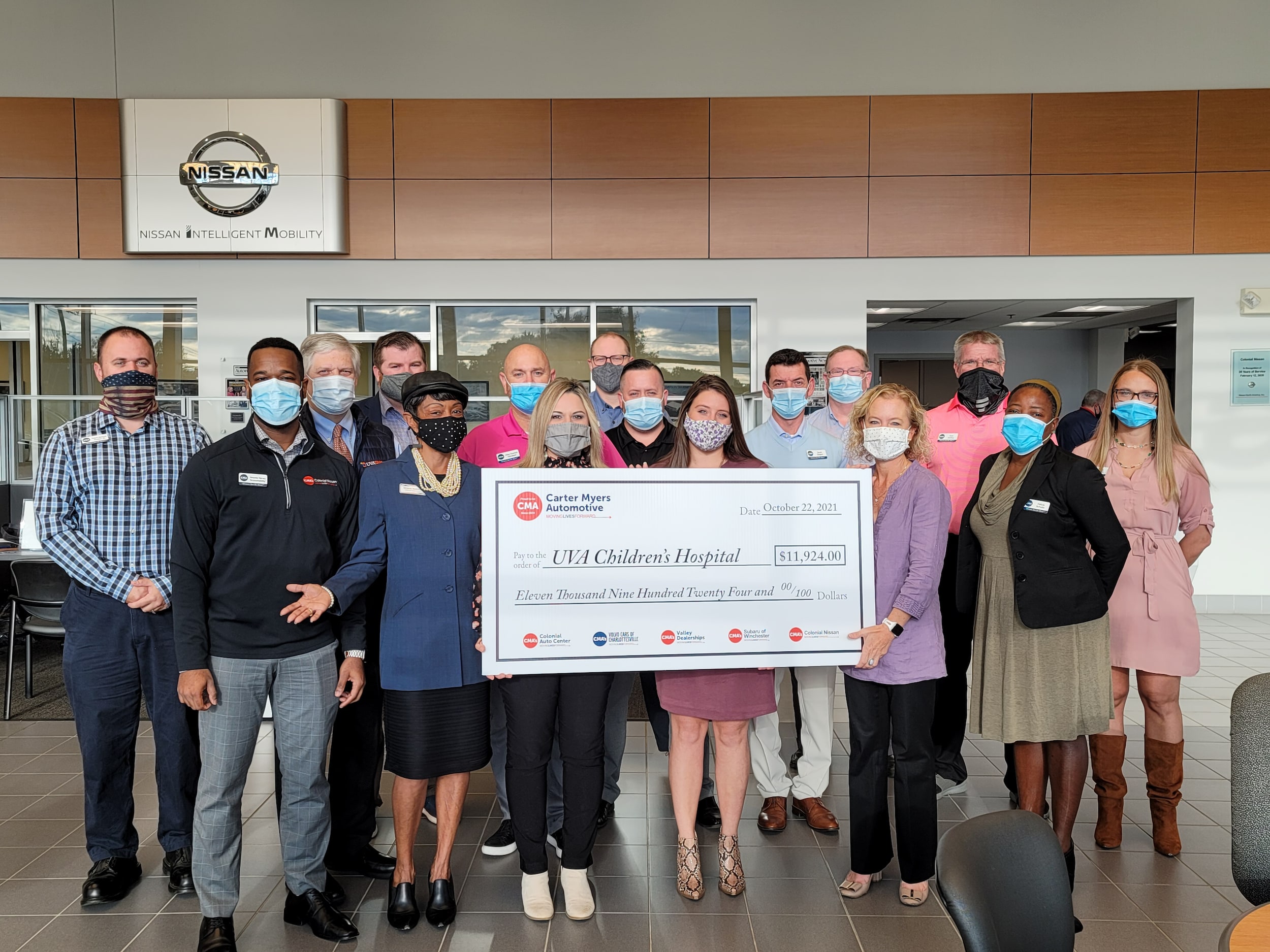 Virginia automotive group fuels the fight during Childhood Cancer Awareness Month
Carter Myers Automotive (CMA) observed Childhood Cancer Awareness Month in a big way. For each vehicle sold during the month of September, CMA's dealerships throughout Virginia made a donation to local non-profits that support pediatric cancer research and treatment and provide resources for local children and their families as they undergo cancer treatment.
"We are so proud to support the incredible work of these organizations," said Liza Borches, President and CEO of Carter Myers Automotive, "As a family and employee-owned company, CMA has always made giving back to our communities a top priority. Our corporate mission is Moving Lives Forward, and I cannot imagine a better way forward than to help children and their families as they endure such a difficult point in their lives."
CMA has five dealerships in the Richmond area and chose the ASK Childhood Cancer Foundation as the recipient of funds raised at those stores. CMA's dealerships in Staunton, Charlottesville, and Winchester chose UVA Children's Hospital. CMA's Williamsburg Ford chose the Children's Hospital of the King's Daughters. In addition to donating for every car sold, CMA associates and customers collected personal donations at each dealership.
Altogether, CMA is donating a total $29,655 to #FueltheFight against childhood cancer.
About Carter Myers Automotive
Carter Myers Automotive (CMA) is a family and employee-owned business founded in Petersburg, VA, in 1924. Liza Myers Borches is the fourth generation of the Myers family to lead the company. Through a unique Employee Stock Ownership Plan, employees now own over 26% of the business, and CMA is still one of the only auto groups in the country that shares ownership equity with its employees. CMA has 15 dealerships in Virginia and more than 700 associates representing 17 new cars brands including Buick, Cadillac, Chevrolet, Chrysler, Dodge, Ford, GMC, Honda, Hyundai, Jeep, Kia, Lincoln, Nissan, RAM, Subaru, Volkswagen, and Volvo. With nearly 3000 new and used vehicles in stock, CMA offers online car buying through CMA's Easy Purchase, can transfer inventory to any other CMA location, and offers home delivery throughout Virginia.